GlutenTox Home is the user-friendly test kit that lets you test for gluten contamination. Effective on foods and beverages, this gluten test kit requires no special equipment and provides clear results in less than 20 minutes.
The G12 antibody found in GlutenTox detects the most toxic fragment of the gluten molecule, the 33mer peptide. It's effective against contamination from wheat, rye and barley.
Plus, you can choose the sensitivity of each gluten test in the kit, depending on your personal needs: 20ppm or 5ppm.
Some of the highlights for the GlutenTox Home Test Kits:
Can detect as little as 5ppm gluten.
No special equipment required; everything is included in the kit.
Quick response: a reliable answer in less than 20 minutes.
Uses the G12 antibody to detect gluten from all gluten-containing grains
Shelf-stable and long-lasting.
Test for gluten in foods, liquids and ingredients.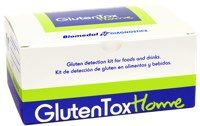 Gluten testing for science fairs!
GlutenTox Home is a great way for children to teach their classmates about gluten.
Visit our Shop to place your order for GlutenTox Home gluten test kits online today, or give us a call at (866) 509 4482.
We're here to answer your questions!