Make Environmental Surface Sampling Faster and Easier
MegaSampler™ and TwinSampler™ Surface Swab System
Emport carries test kits for many food and environmental contaminants – but for some things, it's best to get a third party lab involved. 
Whether your surfaces are made of plastic, glass, stainless steel, wood, ceramic, or something else – your sampling swab must capture a truly representative sample. That's why we now offer the smartest swabs available, MegaSampler™ and TwinSampler™. Thoughtfully designed to increase your sampling accuracy and efficiency, these samplers feature: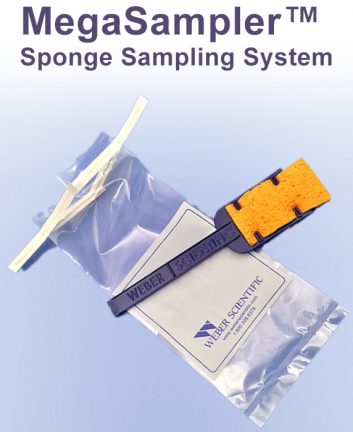 Twice the sampling surface = twice the chance to discover problems
Angled tip for hard to reach places
Biofilm scraping blade incorporated into the handle design; break through any tough residues
No glue or unnecessary chemicals binding the sponge to the handle
Sponge separates easily from handle
Sampler ships in a resealable sample bag; just place the sponge back in its original bag and send it off to the lab!
Store on shelf or in refrigerator
TwinSampler™ features easy-to-split sponges so you can swab once, test twice 
TwinSampler™ comes pre-moistened with 10ml DE Neutralizing Broth.
For MegaSampler™, choose between:
10ml of DE Neutralizing Broth

10 ml of Letheen Broth

dry sponge
Competitive pricing and rapid shipping make these swabs an easy choice no matter your surface testing needs.
Call today to request your free trial MegaSampler™. Available in our online shop.
Sterile Sampling Bags
Sterile, single service bags are made of heavy transparent polyethylene.
Leak-proof and airtight.
Puncture-proof tabs.
Capacity is measured when the bag is closed and tab is folded over 3 times. Volume and dimensions are approximate.
Bags should not be used at temperatures above 180°F (82°C). Bags can be frozen to any temperature.
Use ordinary ballpoint pen, pencil or marker on write-on strips.
Double round wire closures.
Sterile Sampling Bags are available with and without a write-on strip.
Looking for a new partner for your micro lab analyses?
Give us a call at 412-447-1888, or use our contact form.