Allergen test kits for the detection of allergens in food and on surfaces
Food allergy is an adverse immune response to a food protein. Over 160 foods can cause allergic reactions, but the majority of these reactions are caused by a small percentage of them. AlerTox Sticks are a rapid test for the detection and quantification of main food allergens including:
Almond
Crustacean
Egg
Fish
Hazelnut
Peanut
Milk
Mustard
Sesame
Soy
Walnut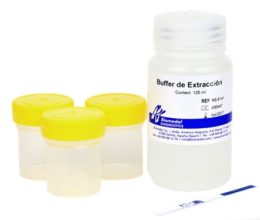 AlerTox Sticks kits are specially designed to help manufacturers keep their items free from the antigens that cause allergic reaction. It is user-friendly: no lab equipment or scientific knowledge required. It's a must-have for any manufacturer or commercial kitchen that wants to ensure food safety. AlerTox Sticks Features:
Quick: A reliable answer in less than 10 minutes
Easy: No special equipment required; everything is included in the kit
Reliable: Shelf-stable and long-lasting
Cost efficient: competitive pricing and volume discounts available
ELISA kits also available for 20+ allergens
Emport would be happy to answer your questions. Contact us for information on how the test works, and for ordering.
AlerTox test kits are not suitable for home use. More information? Check out FAQ.
Are you looking for a fast and easy way to verify your cleaning procedure?
With AllerSnap™ you can verify the cleanliness of surfaces by detecting protein residues left behind after cleaning. You can use general protein swabs to increase the amount of data collected and decrease the risk of undetected cross-contact.