Are you looking for a fast and easy way to verify your cleaning procedure?
With AllerSnap™ you can verify the cleanliness of surfaces by detecting protein residues left behind after cleaning. While allergen-specific tests remain the gold standard of gluten and allergen management, they can be paired with general protein swabs to increase the amount of data collected and decrease the risk of undetected cross-contact.
Easy to use and program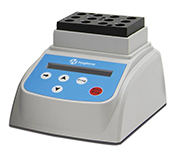 Ask us about the part the incubator plays in conducting AllerSnap swab tests.
How does AllerSnap™ work?
Most allergens are
glycoproteins
and can be detected by protein tests.
AllerSnap™
uses the biuret method, which is a broad spectrum monitoring method primarily used to verify your cleaning SOP.
The test is easy: swab the testing area and snap the bulb to release a reagent. Incubate the swab for 5-30 minutes then match the color to the chart: green means clean and purple means re-clean. The incubator is a necessary piece of equipment; the tests cannot by conducted with out it.
The
biuret method
is a colorimetric technique specific for proteins and peptides. Copper salts in alkaline solution form a purple complex with substances containing two or more peptide bonds. The absorbance produced is proportional to the number of peptide bonds that are reacting and therefore to the number of protein molecules present in the reaction system.
~Read the article on Science Direct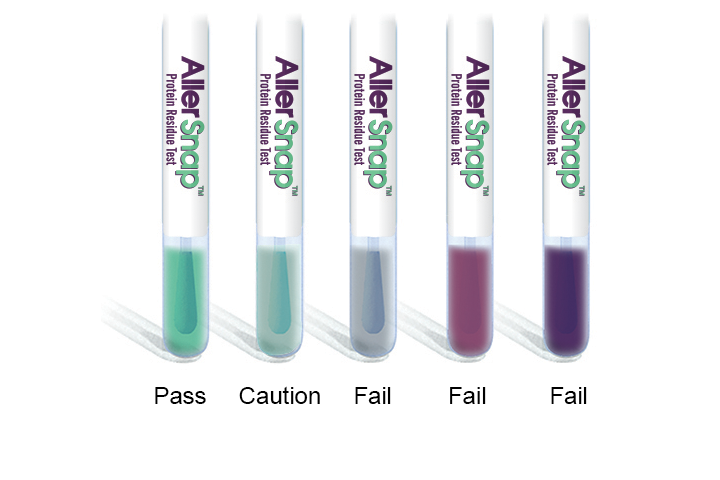 Protein tests can detect all sorts of proteins, and do not differentiate between proteins from FALCPA allergens like peanut, soy, or milk and proteins from other sources. The results are semiquantitative and the scope and sensitivity of the protein test is roughly equivalent to 10–100 ppm. This means that general allergen testing is not a replacement to allergen-specific testing with kits like AlerTox Sticks. Instead, it is a cost-effective way to gather more data points and lower risk of recalls and allergen cross-contact.
Is AllerSnap™ a good match for your business?
AllerSnap™ is portable, rapid and cost effective supplement to your comprehensive allergen management plan. With a minimum of equipment, AllerSnap™ can be used in an array of settings. Any safety team that is concerned with controlling for food allergens, whether you are a food processor, a hospitality kitchen or a supermarket kitchen, will find these easy-to-interpret surface swabs an essential tool.
Looking for a more sensitive allergen control solution?
AlerTox Sticks® kits are senisitve, on-site LFD tests that have the flexibility to test products, ingredients and wastewater as well as surfaces. AlerTox Sticks come in a variety of allergens: almond, crustacean, egg, fish, hazelnut, milk, mustard, peanut, soy, and walnut.

100 swabs/case
Easy to use and activate
Separate incubator required
Results in 5-30 minutes depending on sensitivity requirements
Proactive, qualitative approach to verification
Cost-effective
Eliminates mistakes and waste
No separate wetting agent or reconstitution step 
Pre-moistened swab provides reliable collection recovery and detection
Patented Snap-Valve™ technology – snap & squeeze
Write-on swab tube label
Temperature stable, sensitive liquid-stable chemistry
Small, light-weight swabs
Low carbon foot print (100% recyclable)
Shelf life: 18 months at room or refrigerated temperatures (2 – 25°C)
Sensitivity: Reliably detect 5 µg protein after 5 minutes of incubtation