Accurately test for gluten residue in ingredients, finished products and surfaces.
GlutenTox® Sticks PLUS (KT-5340) are immunochromatographic test sticks for quick detection of the toxic fraction of gluten found in foods, beverages and on surfaces. They incorporate the anti-gliadin antibody G12, which detects the toxic 33mer peptide, the primary initiator of the inflammatory response to gluten in Celiac Disease patients.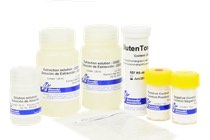 GlutenTox Sticks PLUS are easy to use, but they do require some basic lab equipment (pipettes and tubes, agitators, a centrifuge, etc). Tests should be performed in a dedicated part of your facility. 
Do you need to create, expand or refresh your laboratory set up? Emport LLC offers a variety of lab equipment and consumables. We are happy to work with you to build your quality control lab from the ground up, or to supplement your existing lab facilities.
Advantages of GlutenTox Sticks PLUS:
Semi-quantitative results
Adjustable detection limit, minimum LOD 3ppm, maximum LOD 100+ppm
Results in less than an hour
Suitable for complex matrices: hydrolyzed, fermented, and processed foods
No false positives, no cross-reactivity
Quantification is possible. Use the specially formatted GlutenTox Sticks PLUS for Reader with the Hygiena Cube.