GlutenTox® ELISA Rapid G12
GlutenTox® ELISA Rapid G12 is a quantitative enzyme-linked immunosorbent assay (ELISA) designed for the determination of the immunotoxic fraction of gluten in food samples. The ELISA Sandwich is a technique used for the analysis of substances, like gluten, found at very low concentrations. The high specificity of the antibodies used in this test, allows this method to precisely quantify gluten in food samples
Quantification Range: 0.6ppm to 200ppm of gluten
Results in 90 minutes
96 well kit for large number of samples
Validated against a wide range of food matrices
No cross-reactivity
Not for hydrolyzed sources of gluten
---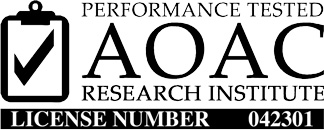 GlutenTox® ELISA Rapid G12 holds AOAC certification for detecting gluten in foods, license number 042301. Validation studies showed no cross-reactivity (false positives) and no false negatives, as well as 100% specificity and 100% sensitivity for food testing. The test was validated against these Food Matrices: Soy flour, corn bread, seasoning mix, rolled oats, evaporated milk and incurred bread matrix.
---
Necessary materials not supplied
Analytical scale (accurate to 0.1 g)
Capped centrifuge test tubes (> 10 mL)
Test vials (1.5-2 mL)
Disposable gloves
Distilled water
Timer
Vortex mixer
Tube rotator (or similar mixing device)
Centrifuge
Thermostatically-controlled water bath
Automatic microplate washer (recommended)
Mono-channel pipettes, multi-channel pipettes (recommended), pipette tips
ELISA plate reader (with 450 nm filter)
Testing for gluten in foods that also contain polyphenols or antioxidents? The polyphenol pack is a must-have. This pack contains:
Sufficient Polyphenol Additive to run 25 tests (25g)
Positive Control containing polyphenols (cocoa powder with gluten, 10 g)
Negative Control containing polyphenols (gluten-free cocoa powder, 10 g)
Not sure if this product is right for you? We love to chat, contact us with your questions.