OleoTest: Fryer oil quality control for manufacturers and commercial kitchens.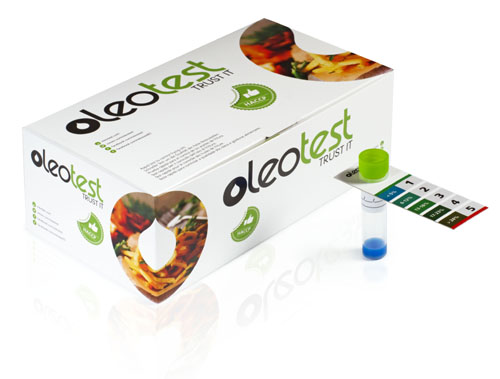 Safe for your team members, safe for use around food.
OleoTest is a an easy and safe colorimetric assay and is easy to use. It is safe to use around food products. Tests can be conducted with lower temperature oil, making it safer for your team members.
Deep-frying food is one of the most widespread culinary and industrial cooking techniques in the world. Fried products are well perceived by customers because of their texture and distinctive flavor.
The technique of deep-fat frying involves a series of complex processes that not only affect the oil composition and the product undergoing the frying process, but also – and more importantly! – the consumer's health.
Quality control of frying oil during the manufacturing process are carefully controlled in many countries, where polar compound composition is often limited to 25%. OleoTest provides a concrete measurement that will demonstrate compliance in your food safety plan.
OleoTest is a rapid test suitable for analyzing the total polar compounds in oils used for deep frying. There are many advantages to using OleoTest:
Easy to use: No technical skills needed; sophisticated enough for a scientist, easy enough for a home chef.
Rapid results: 2 minutes.
Simple: No preparation, calibration, external reagents ,or instruments are needed.
No maintenance: No equipment to wash or dry, no repair expenses.
Easy storage and transport: Tests are pocket-sized and can be stored at room temperature.
Record-keeping: The test will hold stable results for months, and can be used as a record of quality control methods.
Safe: Non-toxic reagents. No need for high temperatures; oil can be tested at 140°F. No risk of smoke, fire, or explosion.
Correlation: OleoTest shows the best correlation to the official IUPAC-AOAC methods of quality control of any method available.
Credible. The excellent correlation between the results obtained using OleoTest® and several other laboratory methods, including the official determination method for polar compounds (ISO 8420), is continuously verified in independents laboratories.
Oleotest is validated to use with seeds oils (sunflower, corn, peanut, etc.) and coconut oil. A different color scale must be used to measure polar compounds in palm oil. Oleotest can not be used with olive oil as its color interferes with the color of the test.

OleoTest is a rapid test suitable for analyzing the total polar compounds in oils used for deep frying. OleoTest provides results in fewer than 5 minutes, and is available in packs of 10 or 50 tests per kit.

How To Test
OleoTest requires no special equipment and is easy to conduct; any employee can use the kit and get results in less than 5 minutes. Learn more about how to use OleoTest!

Why Test?
Oil that's past its prime doesn't just taste bad, it's unhealthy. Read more about the life cycle of oil in our White Paper, Monitoring Polar Compounds in Fry Oil. You can download it on our Documentation page.