Raw Meat FlowThrough™ tests are rapid and accurate tests for detecting species contamination of raw meat.
Prevent food fraud and unintentional contamination with the Raw Meat FlowThrough™ speciation tests. Ideal for any facility handling raw meat, as well as food analysis laboratories, the kits quickly and easily detect the presence of unexpected species in raw meats. Tests are available for cow, horse, pig, poultry or sheep. Need to test for meat residue on working surfaces? Companion FlowThrough™ swab for surfaces kits are available for testing environmental surfaces.
Raw Meat Species FlowThrough™ Key Attributes
Easy to use, no special training required
Includes all materials for conducting five tests
Reliable, sensitive detection
Results in < 8 minutes for surfaces, <15 minutes for foods
No 'overload' risk if high levels of contamination in foods.
Want to see how easy it is to run these tests? View the video demonstration of the Raw Meat Species FlowThrough™ Swab.
Rapid Meat Speciation for food samples
The rapid Raw Meat FlowThrough™ speciation test is an innovative product designed for use by raw meat processors as well as by smaller food analysis laboratories. Their use transforms the capability for onsite control at meat processing operations. Raw Meat FlowThrough™ tests are available in packs of 5 tests.
The tests are simple to perform and provide fast and cost-effective test results for a wide range of large and small meat processors. Key benefits:
Reliably detect 1% levels of raw meat adulteration
For use with raw meats, blood drip and raw meat products
Validated using LGC Raw Meat Certificated Reference Materials (CRMs)
Results in under 15 minutes
Easy to use, no special training required
Includes all materials for conducting five tests
Specificity of the FlowThrough™ tests for food
Antibody reactivity reflects the closeness in relationships between species (Note: when tested using serum, a potency significantly higher than found in meat was used). Anti-poultry antibody detects a broad range of avian species. In contrast, whilst sheep, goat, cow, buffalo and bison are all ruminants, the sheep and cow antibodies have been purified to remove their reactivity to cow/buffalo/bison and sheep/goat respectively but not to the family e.g. deer. The table below outlines cross-reactivity of the tests by species.
Contact us
for a full validation report.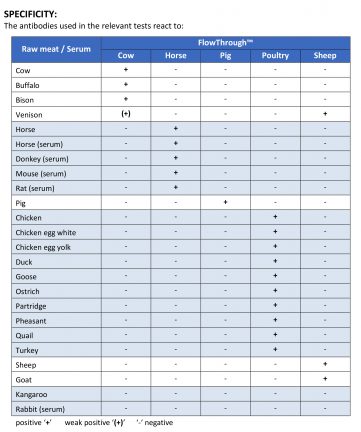 General test procedures
The FlowThrough™ tests are rapid, accurate and easy to use. Everything you need to conduct five tests are included in the kit. Contact us if you would like additional documentation on how the tests are conducted. The procedure for the tests are different for foods and surfaces.
The Raw Meat FlowThrough™ Test six part procedure typically takes 12 minutes to perform. Species-specific proteins are extracted from a homogenous sample that is then diluted and added to the test unit so that the proteins bind to a Test spot (T) on the left hand side of the test area. Binding of these proteins is indicated after the addition of a Color Reagent, which forms a pink spot at 'T'. A pink Control (C) spot will also appear on the right hand side of the test area to indicate the test has worked properly.
Shipping and Storage of Raw Meat FlowThrough™ kits
The Raw Meat FlowThrough™ tests require special handling and storage. Check the control spot before using to make sure that the kit did not degrade because of a shipping issue
Shipping flat-rate applies only to the continental US. Located in Alaska, Hawaii or Puerto Rico? Contacts us to arrange shipping.
Raw Meat FlowThrough kits will ship via UPS
Kits will be shipped in cold pack
Kits should be stored at 2°C/36°F to 8°C/46°F
FlowThrough™ for testing foods
I got an unexpected result or I would like to verify my result
The sample extract can be retained (store refrigerated at 2°C/36°F to 8°C/46°F for up to 2 days or frozen for up to 3 months) for testing by ELISA if required. If necessary, spin the white disc by pressing one edge and remove it so that more liquid extract can be accessed. Contact us to set up ELISA lab testing.
Viscous extracts may take longer to absorb; if not absorbed after 10 minutes, blot remaining liquid with a clean cotton bud or tissue before cleaning the test area.
Orders will be shipped on ice via DHL and may take 7-10 business days to arrive. Orders do not ship on Fridays. For product shipping to Canada, please contact us.
All sales of FlowThrough™ are final. For more information, please see our Terms & Conditions.
Emport would be happy to answer your questions. Contact us for information on how the test works, and for ordering.
FlowThrough™ kits are not suitable for home/consumer use.