Caring about your fry oil's Total Polar Content:
better for health, better for business.
Nowadays, deep-frying food is one of the most widespread culinary and industrial cooking techniques in the world. Fried products are well perceived by customers because of their texture and distinctive flavor.
But light, heat and moisture all take their toll during the deep-frying process. Changes in the oil lead to an accumulation of undesirable polar compounds, which negatively impact consumer health and food taste.
Monitoring the composition of fryer oil for its polar content is a key step in producing a desirable, quality fried product. Our quick, easy OleoTest® accurately assesses fryer oil. Creating a safe environment for food production is different for every facility. There are many certification agencies and food safety consultants happy to review your facility's current practices and work with you to develop or refine your HACCP plan to include best practices when handling fry oil.
The OleoTest Advantage: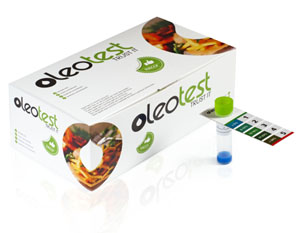 Easy to use: No technical skills needed; sophisticated enough for a scientist, easy enough for a home chef.
Rapid results: 2 minutes.
Simple: No preparation, calibration, external reagents ,or instruments are needed.
No maintenance: No equipment to wash or dry, no repair expenses.
Easy storage and transport: Tests are pocket-sized and can be stored at room temperature.
Record-keeping: The test will hold stable results for months, and can be used as a record of quality control methods.
Safe: Non-toxic reagents. No need for high temperatures; oil can be tested at 140°F. No risk of smoke, fire, or explosion.
Correlation: OleoTest shows the best correlation to the official IUPAC-AOAC methods of quality control of any method available.
You can find out more about OleoTest® on our site, or contact us with questions.
If you're curious about the changes that oil undergoes as it cooks our food,
download our white paper, Monitoring Polar Compounds in Fryer Oil.