You may have noticed that we added a third product to the line-up the other week: a ten-test kit of GlutenTox Home.
Three highlights, to explain why we've added this larger size: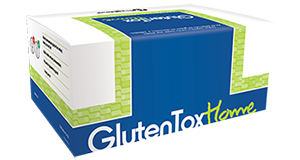 The ten-pack comes as two boxes of 5 tests, so it's perfect for sharing with a friend who is also gluten-free. Or, leave one box at home and send the other to school or camp with your gluten-free child.
You save in two ways. Firstly, the per-test price is the lowest we offer. Secondly, we're also holding the shipping cost at a flat $8 (same as the smaller kits) — which brings your total per-test cost down drastically.
We bet you'll be able to think of 10 things worth testing pretty quickly, but there's no hurry. The shelf life of the tests is 18 months from date of manufacture and they can be kept at room temperature — keep them in the pantry and use them as needed.