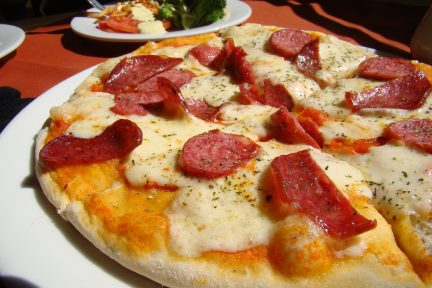 Well, curiosity finally got the best of us: we bought one of Domino's gluten-free (but not celiac-safe) pizzas to check out here in the Emport offices. After carefully following the commentary (and checking out these lab results ordered by CeliAct, which did not use the G12 antibody and which we were completely unaffiliated with), we weren't expecting to find oodles of gluten. But we also weren't ready to chow down without doing some more research.
First, some background information. About a week ago, one of us (Emily, who's also writing this post) walked into our local Domino's and asked about the pizza. The woman behind the counter mentioned that they had separate trays and a separate pizza cutter in the back. Cue pleasant shock and surprise.
So, today I (Emily) went online and ordered a pizza. Half with no cheese — the better to test the crust — and half with cheese, spinach and mushrooms. I didn't call to ask about the preparation, but when I went to pick the pizza up I did. This time, the employee confirmed the separate pizza cutter but said they did not have special trays.
For our first test, we took a few square inches of pizza crust from a cheeseless slice, scraped the tomato sauce off, and chopped everything up finely. For our second test, we took a hunk of cheese with spinach and mushroom and did the best we could to chop that up — a difficult task, but since our primary concern was surface contamination we weren't too stressed about getting everything pulverized. If there were crumbs, they would come off during the extraction process.
We dropped the two measured samples into two extraction vials, shook shook shook for two minutes, and then let the extraction vials settle for five minutes. Then it was time to decide how sensitive to make the tests — and we went for 5ppm for both samples. From each extraction vial we put 8 drops of solution into a dilution vial.
The two dilution vials were capped and gently mixed, and then it was time to bust out the GlutenTox Home test sticks. You can see them below, right after we put the dilution solution into the wells, and after we waited 10 minutes for results.
And what were the results of our tests for gluten?
Well, both tests came up negative. What does this mean?
What this means is that, within the gram of Domino's cheese/toppings that we tested and within the gram of Domino's gluten-free crust that we tested, there was less than 5ppm gluten.
From the tests, we can feel pretty safe in guessing that the pizza is not covered in gluten and that there is not a massive amount of contamination in the toppings bins or along the production line. Or, better said, at the time that this pizza was made, these things were true of the location where we ordered the pizza from.
However, there are some things that we don't know. Could there have been a few crumbs from a gluten-full pie stuck to the bottom of a different slice? Yes. Could the spinach and mushroom bins have been safe because no one ordered a gluten-full pizza with them today, but the pepperoni bin been contaminated? Yes, it's possible. Could the entire pizza have been completely safe and free of cross-contamination? Yup, also possible.
At the end of the day, as our resident celiac, I decided to risk a few small bites from one of the slices we tested. It was pretty delicious, and I don't seem to be having any sort of reaction — but the rest of the pizza went to the gluten-friendly part of the office. And I don't think I'll be ordering it again, at least not until there are separate trays and cheese/sauce/toppings bins. Which, fingers crossed, will be soon. After all, the Domino's employees said the gluten-free crust has been pretty popular.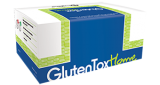 Need to test for gluten at home?
Commercial-quality, user-friendly. Clear results in less than 20 minutes.