Do you know what food labels are really saying about allergens? Does anyone? How do food manufacturers differentiate between a product having "traces" of an allergen versus a product containing that allergen as an ingredient? At what point are traces of an allergen a danger to the consumer? In a perfect world, the answer would lie in Action Levels.
What are Allergen Action Levels?
Action Level is the fancy term for the threshold at which a manufacturer interested in minimizing risk to consumers should use Precautionary Labeling or declare a food allergen in a product. They are determined by comparing the maximum portion size of a food with the amount of allergen known to cause a reaction (AKA Reference Dose). They differ by allergen and food product.
The Allergen Bureau, an international industry group based in Australia and New Zealand, has established a framework for determining action levels based on clinical studies. They have also developed a standardized procedure for declaring allergens. This framework, known as VITAL (Voluntary Incidental Trace Allergen Labeling), has been updated twice. The most recent update, VITAL 3.0, was published in late 2019.
While there used to be 3 action levels for each allergen, now there are only two:
Action level 1 requires no labeling or declaration.
Action level 2 requires PAL labeling, a declaration of allergens that "may be present"
Additionally, the Reference Doses used to calculate Action Levels have been updated in VITAL 3.0.
What is the difference between an Action Level and a Reference Dose?
Reference Doses are quantities of food, measured in milligrams of total protein of allergenic food. This is different than the way food manufacturers typically think about allergens, which is in PPM. When a lab or manufacturer tests for allergens, the result is given in PPM, a ratio of milligrams of allergen per kilogram of sample.
In other words: 99% of food-allergic individuals who eat a food containing less than the Reference Dose of the allergen will have little to no reaction. The Action Level is the PPM value of allergen in the food, above which it's likely that these food-allergic individuals will reach or exceed the Reference Dose and have a reaction.
The Allergen Bureau has determined quantities of allergen that are highly likely to trigger allergic reactions. These quantities AKA Reference Doses are based on clinical data from a variety of studies.
Older articles about these calculations often refer to LOAEL, the Lowest Observed Adverse Effect Levels (as recorded from clinical trials). As more data has become available the method of calculation has changed. Now, it is more common to see references to the Reference Dose than to the LOAEL.
Within VITAL 3.0, the Reference Dose is generally the same as the ED01, or Eliciting Dose 01. An ED01 is an Eliciting Dose that is predicted to trigger a reaction in 1% of the allergic population. By comparison, an ED05 would be predicted to trigger a reaction in 5% of the allergic population, and so on.
Note!
These action levels represent guidance, but they do not necessarily align with governmental regulations around allergens. In most countries, there are no precise PPM values of allowable allergen contamination.
How are allergen Action Levels calculated?
To determine the action level for a particular allergen, you first must determine the Reference Amount. This is the realistic serving size, or a conservative best guess of how much of something would be eaten at once. The Reference Amount may be the same as the printed serving size on the label – or it may be larger, if that better represents typical consumer behavior.
Secondly, you must look at the Reference Dose. Once you know the Reference Amount and the Reference Dose, it's time for some math. Essentially, you need to imagine mixing the Reference Dose into the Reference Amount. If you were to do that and then test the product, how many PPM of allergen would you find? That number is the Action Level.
Confused? Read on:
The Reference Dose for peanut is 0.2mg. If a spice manufacturer determines that 5g is reasonable Reference Amount for their spice blend, they need to figure out the PPM value of peanut that would cause 5g of spice blend to contain 0.2mg of peanut. In this example, the answer (and the Action Level) is 40PPM. However, if the Reference Amount increased from 5g to 50g, the Action Level would decrease from 40PPM to 4PPM.
You can run these calculations manually, or you can use the Allergen Bureau's online calculator. Access to the calculator is currently free for a month, and then available via subscription. Information is available on their website. Please do note that Emport LLC is not affiliated with the Allergen Bureau in any way.
It's also important to note that while Action Levels represent guidance, they do not necessarily align with governmental regulations around allergens.
So, what are the current VITAL Reference Doses?
In the following chart are the different reference doses for each allergen. Note! We have updated this chart to reflect the current data as of 2021:
Table of Summary of changes to Reference Doses in VITAL Online*
Allergen
Reference Dose (mg protein)
Comment
VITAL 2.0
VITAL 3.0
Reference Dose has decreased
Cereals containing
gluten
1.0
0.7
Labelling outcomes
may have shifted
from Action Level 1
to Action Level 2 -
check for affected
recipes.


Soy
1.0
0.5
Sesame
0.2
0.1
Lupin
4.0
2.6
Cashew & Pistachio
0.1
0.05
Pecan & Walnut
0.1
0.03
Reference Dose has increased
Egg
0.03
0.2
Labelling outcomes
may have shifted
from Action Level 2
to Action Level 1.
Milk
0.1
0.2
Fish
0.1
1.3
Crustacean
10
25
New Reference Dose
Celery/Celeriac
None
0.05
Reference Dose is unchanged
Peanuts
0.2
0.2
Almonds, Brazil Nuts,
Hazelnuts, Macadamia
0.1
0.1
Mustard
0.05
0.05
Compared to Vital 2.0, this chart features the following notable changes:
Eggs, milk and shrimp: Reference doses have increased
Lupin, soy, wheat and sesame: Reference doses have decreased 
Cashew nuts, celery, fish and walnuts: Reference doses have been established
Peanuts, hazelnuts and mustard: No change
How do these action levels compare to gluten and allergen laws around the world?
Gluten-free regulations vary from country to country. Key differences include the threshold for labeling items gluten-free, and how to handle oats. Allergen labeling, including which foods count as allergens, also varies. It is important for manufacturers to pay careful attention to the nuances of their own countries and the countries where they export.
For most allergens in most of the world, there are no legal amounts of "acceptable" cross contact. Gluten is the only exception.
In New Zealand and Australia, a product labeled "gluten free" must have no traces of gluten when standard detection methods are used. On the other hand, in North America and the EU, products may be labeled "gluten free" if they have up to 20 PPM (.002%) of gluten detected. Neither Canada nor the United States allows for products to be labeled as "low gluten", but the EU, New Zealand, and Australia do allow certain items to be labeled as "low gluten" or "very low gluten". So, a product that has been slightly impacted by cross-contact and tests to 7PPM may be labeled very differently in different countries.
Stricter standards are more difficult for producers. Some people believe the no-detectable-gluten threshold leads to products being withheld from the market despite being safe for all or most people with celiac disease. Others believe that any detectable gluten puts consumers in harm's way. For this reason, the VITAL actions levels could provide clear and consistent labeling guidance. This could help people with food allergies identify risk, and help inform producers on how to react to minor cross-contact in their products.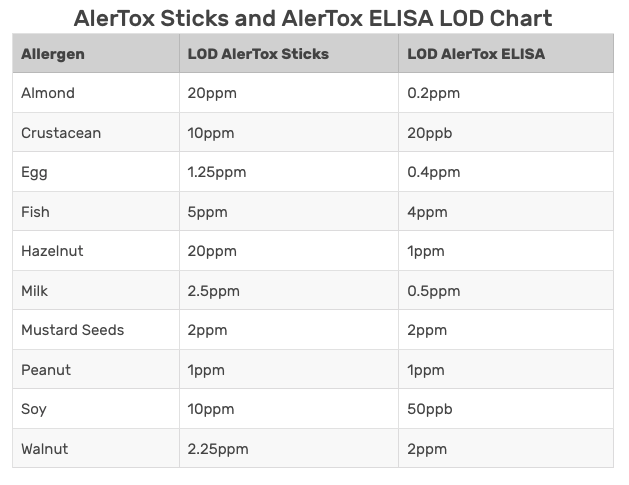 How do Emport LLC's allergen test kits help food manufacturers comply with VITAL guidelines?
GlutenTox Pro and AlerTox Sticks test kits are quite sensitive to the allergens in question, often with thresholds well under a product's Action Levels. It is important to remember that since the thresholds of the kits are so low, a positive test result merely indicates that there is some degree of allergen present in the sample. A positive qualitative test result indicates that the sample should be shared with an outside lab for additional quantitative analysis.
Whether you represent a food manufacturer or a commercial kitchen, AlerTox and GlutenTox test kits can help you check incoming ingredients, finished products, working surfaces and rinsewater for traces of food allergens. They are an important part of any food safety plan.
Editor's Note: This piece has been substantially updated
to reflect current information as of June 24, 2021.
Emport considers itself a partner in your food safety concerns. Contact us to discuss the best combinations of testing protocols for your business.
Interested in Learning More?