Our good friends at Le Gluten en Moins put together this great infographic on testing with our GlutenTox Home kit.
Want to stay assured of keeping gluten free in your own kitchen? Our GlutenTox Home kits are available in 2-, 5- and 10-test kits.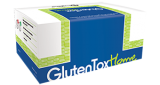 Need to test for gluten at home?
Commercial-quality, user-friendly. Clear results in less than 20 minutes.