If you live with gluten-full people, you have probably seen your fair share of contaminating gluten crumbs. Is it the jam? Peanut Butter? Margarine? If your housemates or loved ones double dipped their knives in the spread, chances are, at least a crumb or two settled in. Sometimes you may notice the contamination immediately, but other times it may be hard to identify.
We're happy to share that GlutenTox Home can detect contamination in spreads, even if it's just a single crumb in margarine!
Our friends at Biomedal tested margarine with varying amounts of contamination for gluten.  They tested three samples of contaminated margarine: one with just 1 crumb, one with 2 crumbs, and one with several little crumbs.
The results? GlutenTox Home tested positive for all three samples at 5ppm! Just as a control, a clean margarine sample was tested and found negative.
 Because pure fat does not itself contain gluten, sometimes special steps are needed to ensure any isolated bits of gluten are found.  However, this test easily detected even just a few breadcrumbs in the margarine. The fat content did not interfere in the detection of gluten at the levels we studied.
Now, you can be sure that your gluten-free toast with margarine is as safe as you thought it was!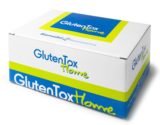 Need to test for gluten at home?
Commercial-quality, user-friendly. Clear results in less than 20 minutes.