We often get asked whether GlutenTox Home can accurately detect gluten in highly acidic items like lemon juice. The answer in a nutshell? It sure can!
Traditionally items with extreme pH balances have been tricky for gluten test kits, but GlutenTox contains a dilution solution formulated with a special pH stabilizer. To prove it, the team at Biomedal's ISO-certified gluten analysis lab prepared three very special batches of lemon juice.
The first sample was the control, a basic bottle of lemon juice from the local supermarket. They happened to use Prima brand, which contains: lemon juice from concentrate (water, concentrated lemon juice), natural flavors, citric acid, sodium benzoate, sodium metabisulfite and sodium sulfite. As it happens, the pH value of this lemon juice is 1.64 — not only is it very, very acidic, it's most acidic than most plain lemons!
The second sample was the same lemon juice, purposefully spiked with 5ppm of  gluten. The third? You guessed it! Lemon juice spiked with 20ppm of gluten.
As you can see in the pictures below, the control sample was gluten-free. No surprise there, lemon juice is naturally gluten-free and the additives in this bottle are not typically gluten-containing. The sample spiked with 5ppm of gluten was tested at the 5ppm threshold and returned positive results. The sample spiked with 20ppm of gluten was tested at the higher threshold of 20ppm and also returned positive results. All three samples had fairly neutral pH values by the time they were extracted and diluted.
What does this tell us? Well, most importantly, it tells us that we don't need to worry about low pH values when testing items for gluten. Citrus juices, vinegar, wine, and other acidic items can be tested safely for gluten at either sensitivity threshold using GlutenTox Home.
You can see the below report from Biomedal, the originator of GlutenTox, using GlutenTox Pro, an equally sensitive test designed for manufacturers of gluten-free food.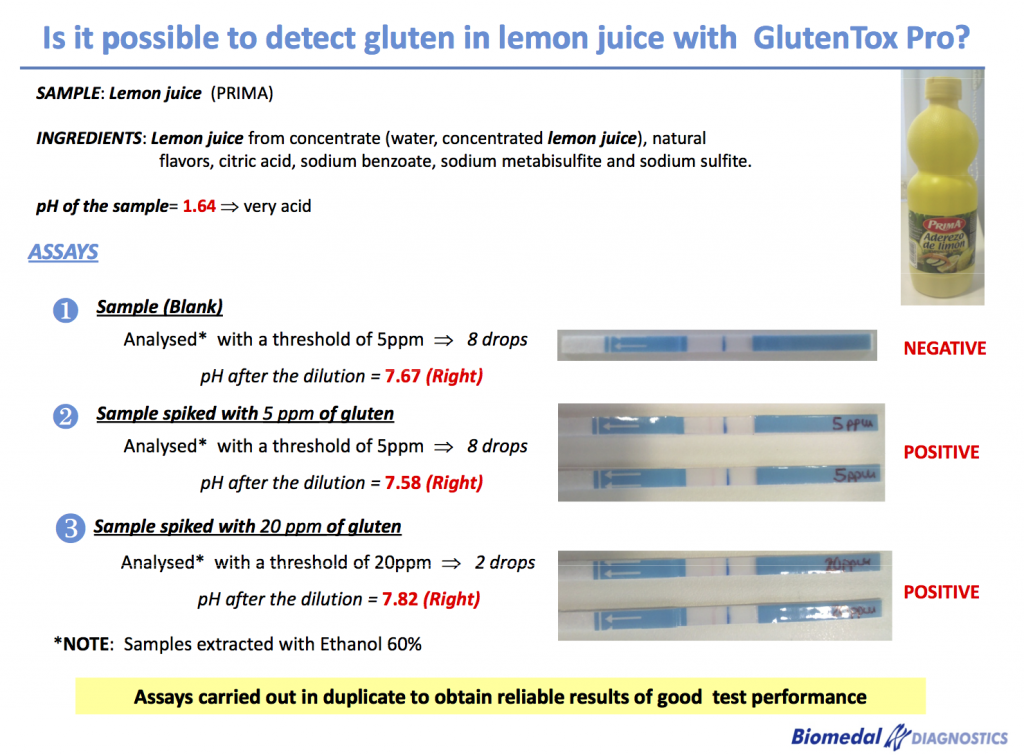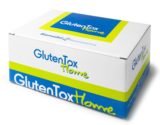 Need to test for gluten at home?
Commercial-quality, user-friendly. Clear results in less than 20 minutes.