A very overdue post today, courtesy of one of Emport LLC's very own team members, Steph. While Steph doesn't have any food intolerances, several of her loved ones must avoid gluten. How does she handle baking treats for them, when her usual recipes won't work? Read on to find out!
Gluten intolerance and sensitivity has seen a huge increase in visibility and more than ever we are aware of the dietary restrictions of those in our lives. As someone who claims to have an iron stomach I cannot even imagine having to cut out something so prevalent as gluten, but having several people in my life unable to consume gluten I am interested in creating great food even they can enjoy.
I like the challenge. It's easy to add flour to anything for the texture, but it lacks taste or even much nutritional value. So I put the flour on the top shelf and try not to reach for it. What do I reach for instead? Nut flours, egg whites, cocoa powder, powdered sugar, etc. You need fluff or volume; whipped egg whites work really well and are packed with protein. Nut flours have flavor, density, and texture while also being more nutritionally valuable than wheat flour. Powdered sugar is tasty and fluffy, but be careful about adding too much because sugar easily crystalizes to become candy-like and chewy/hard. Cocoa powder is an interesting solution.
I haven't delved too deep into the world of cocoa powder as a replacement, but I recently made the most decadent triple chocolate gluten free cookies that had quite a bit of cocoa powder and powdered sugar combined with egg whites to create what I would consider a perfect cookie: they were soft, dense, and just plain amazing. Not only did they stay soft, (as I think cookies should, but I do recognize that some people love crunchy cookies) but they also resemble slightly more solid brownie batter when still warm, which in my book is perfection.
But why should we try to fake it when there are plenty of inherently gluten free delicious desserts? Have you ever had a homemade marshmallow let alone a flavoured homemade marshmallow? They're easy to make as long as you understand the process and plan accordingly. And yes, they do make a mess, but a bit of warm water wipes it away super easily. I have been experimenting with marshmallows recently have come up with some truly delicious desserts some of my favorite flavours have been, bacon maple, a maple marshmallow with chopped bacon on top, lemon blueberry, a tart lemon marshmallow with swirls of blueberry compote, and candy cane, a red and white swirled peppermint marshmallow.
While gluten free baking may seem like an oxymoron it provides a new lens to see dessert through and allows me to try nontraditional ingredients. I find an abundance of satisfaction and enjoyment in being able to create food that everyone can enjoy.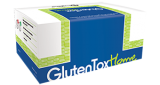 Need to test for gluten at home?
Commercial-quality, user-friendly. Clear results in less than 20 minutes.